05-19-2011
The Bistrot tables displayed in our shop have so many stories to tell... we have decided to share with you some of their secrets, tales and anecdotes! Our art specialist Marion Folli will unveil the story of the parisian Bistrots this Sunday 22nd May from 11am in the shop, from Haussmann's period to our times.
And, because in France -almost- everything is about food, we invite you to a real French breakfast at the same time: tea, coffee, brioche, croissants from Sable d'Or, fresh orange juice... an occasion to start your own story with our lovely Bistrot Tables!
If you want to bring some of this French history back home, don't forget that Sunday will be the last day of our special sale on our tables and chair, with an unmissable discount of -15%!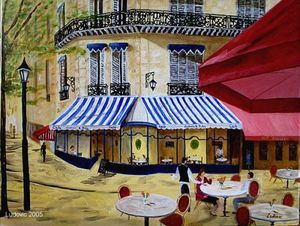 ***
To keep on with this French way of life, and as an allusion to the Festival de Cannes happening now, with the French Book Group we are glad to invite you to the movie projection of "Indigènes" by Rachid Bouchareb (english title: "Days of Glory"), winner of the Award for Best Actor in Cannes in 2006 and of the Award for the Best Screeplay in Cesar 2007.
On Thursday 26th May, in the shop, you will have the occasion to discover -or re-discover!- this intense, thrilling and perfectly acted movie about four North African men who, during WWII, enlist in the French army to liberate that country from Nazi oppression, and to fight French discrimination.
The projection will start at 8pm Thursday 26 (we will ask for a small contribution for it). Please let us know if you would like to participate, just for us to be sure that everyone will have a seat to enjoy this French Movie evening!

A bientôt in Little Paris!
www.littleparis.co.uk / 0208 340 9008

Commentaires sur French breakfast and French movies... live "à la française" with Little Paris!