Follow us on Facebook and Twitter and www.littleparis.co.uk
If you've know me for a while, you know that I have no problem to do to many things in the same time. This month was one of my busiest months in the shop, and also in my private life. Between a moving in a new home ,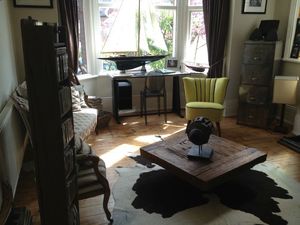 and 2 arts projects to present in Little Paris, the time was avenger. I had very auspicious goals, but I wasn't being realistic about the level of stress that I could endure. What ultimately suffered was my confidence in my hearts, that I could do everything...
Fortunately I was not alone, my husband was there for our move with my children, Marion was there to show the work of Tereza Buskova in Little Paris sister shop in Islington and for the fun idea of the sick bags Presidential 2012, we formed a shock team with Fanny and Marion!
This was really a chaotic period, my daughter was really sick, and of course I was sick to my turn with all this stress - I'm normally much more focused and ready to face the challenges ahead.
I learned the lesson that the creation of the sick bags Presidential 2012 was a good opportunity for me to re put my head ahead.
The idea of the sick bags came one evening over a good meal late March, with some French friends. We looked each other with Marion and we thought, why not ! Use the idea of the sick bags of the Royal weeding from Lydia Leith and turn away with the 4 faces of the most important French politicians from right to left. Lydia Leith followed us and made us beautiful drawings ...
The sick bags Presidentielles arrive in the shop on the 5th of april and the communication was already done to the french journalists on the week end with the extraordinaire work of Fanny Herbecque. And the feedback was really really good.
But I never realised as important it was to find and sell our sick bags to a good distribution network in France. We had a funny idea and a crazy challenge, but too late and without retail networks to represent us in France. But two days later, strangely many images of 2012 Presidential sicks bags were removed from the Google search engine image and many comments from journalists was no longer visible on the net. You said, democracy!
In addition, the store Colette's most trendy shop in Paris refused to have our limited edition of art in her shop, because our art had a political connotation! Of course !
I was not ready for this refusal.But I was so tired myself that I didn't really have the energy to focus on that and find other solution. Fortunately, among our friends, good feedback from the community and French journalists and French in London who love French politic we sell very well. Do not worry you can still buy them if you fancy a little joke to your friends or for your private collection ... (haha).
http://us2.campaign-archive1.com/?u=a3026c05666480a5bc0468493&id=ff6156eb54&e=43a8e8f4b9
The last date in the calendar, brings us to Tereza Buskova private view on the 13th april. Oh boy. We've done it, and we've done really well, with Marion in charge of the exhibition, Garry, Fanny, Celine and Chloe, everybody put a huge energy to change this event to a lovely evening with also a star around ( Russel Tovey, shhh ... )

While initially I felt very upset about the art project of the sick bags Presidentielles 2012 , at the heart of it, they were all very good learning experiences for me. I realised what will happen when I let my own thoughts get the best of me—or when I over stress myself. I also realised the value of knowing when to walk away. There is no shame in scratching— Sir Alan Sugar will probably laugh on my naivety ...
Thank you Marion Folli to have worked on all these projects with me and Cedric my husband for being so supportive of me all the time—but especially when I really, really need it.